Photo Collage Maker - Collage Design Wizard
When you start Photo Collage Maker, the collage design wizard will open. It will guide you step by step, from choosing the layout to specifying the type of paper, page dimensions and resolution. After that, you'll just need to drag your photos into the boxes, and bingo - your collage is ready!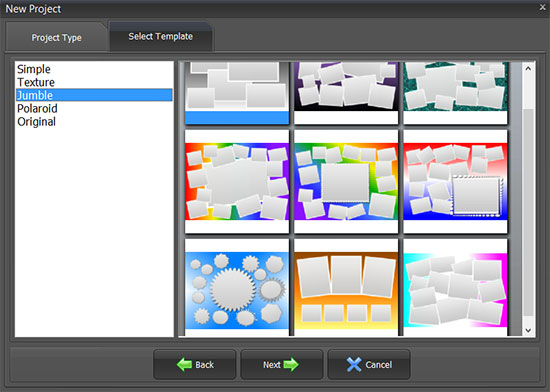 When you choose the collage layout, there two options: stylish page layouts (see the sample above!) or photo collage templates created by professional designers. The templates are divided into themed groups: Wedding, Children, Travel, Seasons, New Year, Vintage, etc. - so it's easy to find a suitable design for any occasion.
For those who prefer clean and simple design, there is a variety of grid collage layouts to choose from. You will find them under Add menu > Grid Collage. The wizard will ask you to decide on the number of rows and columns, whether you want a central photo, colorful borders and shadows, and then generate your collage in a minute!