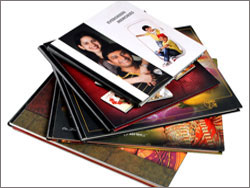 Family is the most important thing that gives us strength to move forward and grants moments that we would like to treasure forever. With personalized photo books, it becomes easy to gather all the family pictures in a single place and celebrate all these small things that make your life unique. From keeping track of your family history to capturing big events, a custom photo album is the most meaningful and lasting way to preserve special memories and family milestones through generations.
What kind of tool can help you in doing this task? Photo Collage Maker is the digital photo album software that gives a new life to your old pictures and enables you to print brilliant scrapbooks at home. The program is equipped with templates suitable for any occasion like your wedding day, the birth of kids, anniversary, family birthdays and much more. With numerous editing tools, you will be able to make a one-of-a-kind picture book that tells your personal story. Check out these family photo album ideas and make your pictures look fabulous!
Family Photo Album with Wedding Pictures
Every great thing has a beginning, and there is no better way to start your family life than with a themed wedding album featuring the best pictures of you two together. Are you scratching your head over creative ways to organize the pictures taken on the ceremony? With Photo Collage Maker software, you will enjoy tons of ready-made templates that will help you favorably showcase your pictures to relatives and friends. There are classic romantic, modern, floral, funny and elegant designs to choose from, so you can build as many pages as you want and create the greatest 'happily ever after' album!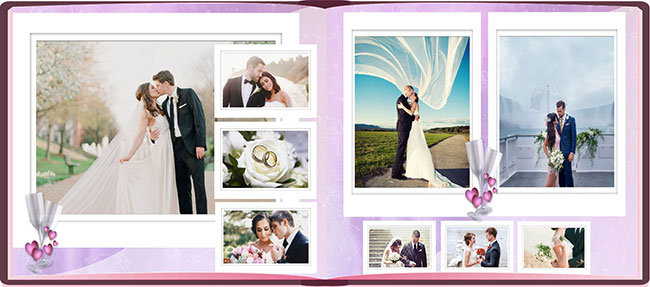 Family Photo Book for Your Kids
If you have kids, it is only natural that you try to capture all the moments of their lives from the first taken step to a grand birthday party. In this case, the application offers you cute pre-designed templates that are perfect for children of any age and gender. Your kids probably love colorful books and they will light up while making a photo album with their own pictures. Let your child play an author and help them decorate album pages with cartoonish cliparts, frames and masks. What is more, you can take scans of their drawings, artworks and hand written notes to round out this custom photo book.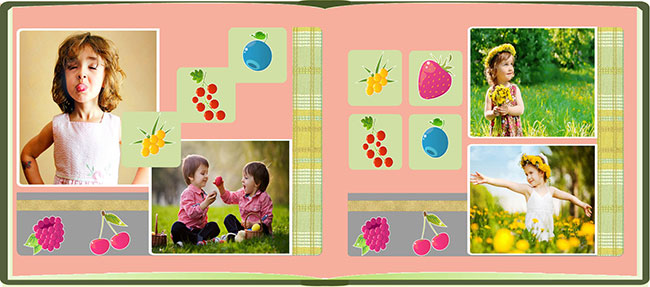 Vintage-Styled Family Photo Album
Everyone has a story to tell, but it is up to you to choose proper tools for storytelling. With vintage-styled collages and scrapbooks growing more popular each year, it is a good idea to present your old family pictures in a new way. Set a scene of your passed life with a custom album that will walk viewers through forgotten and discarded photo memories. Turn these discarded items into treasure troves with the help of stylish embellishments, unique color combinations and retro filters. That way you will get a photo album that can be passed down through generations of your family.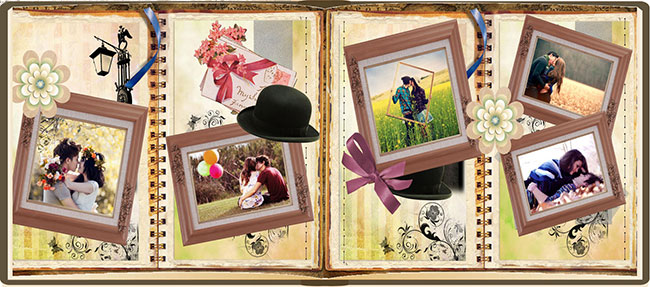 Personalized Travel Photo Album
When you go on a long-awaited vacation, you usually take tons of photos to capture the unique places and people you have seen, and later bring these happy memories home. If you browse through the collection of built-in templates, you will practically feel a soft breeze caressing your face and hear the bubble of the sea. With a personalized travel album, it is easier than ever to transform your photos into treasured keepsakes, and return to exotic destinations every single time you turn the pages of your picture book.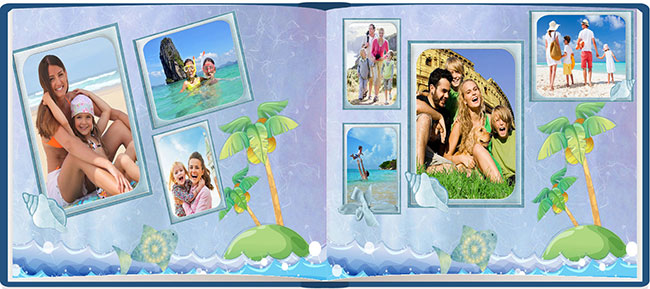 Seasonal Family Photo Album
If it seems that the world around you is moving too fast and days begin to blur, you should probably make a pause and pay more attention to mundane things. The simple change of seasons is also worth capturing. From long thoughtful walks to family picnics at the park, these are the moments, both big and small, that deserve to be cherished and gathered into a seasonal photo album. The application provides you with a handful of templates for all kinds of photos taken throughout the year.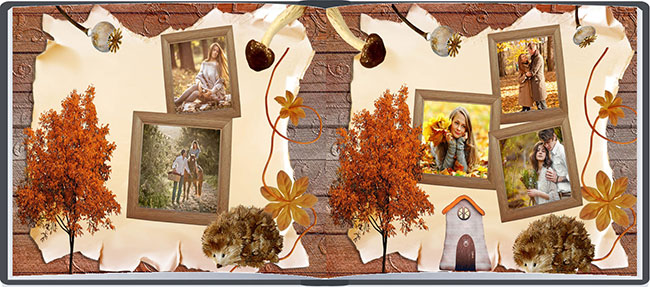 Don't let the years pass by without preserving your precious family memories in the form of personalized photo books. The most sophisticated storage devices can crash and memories can fade, but custom photo albums will last a lifetime. It can be a graduation photo collage, an elegant wedding album or a funny scrapbook featuring the adventures of your kids that hand down the story of your family. Get inspired by these family photo album ideas and capture all the moments that matter in beautifully made picture books!
Have a question or a comment? Post it here!