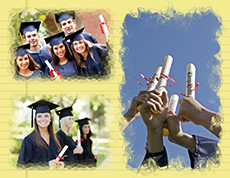 Family occasions, like wedding ceremonies, birthdays, anniversaries and graduation days, always bring all relatives together and fill their photo albums with tons of pictures. These small tokens of remembrance evoke the most memorable days and serve as the best-possible kind of nostalgia. So be you a parent, friend or a fellow graduate stepping from university or college to the real world, capture this big event in dozens of pictures and use them as ideal subject matter for a celebratory graduation photo collage.
With a proper photo collage editor the way you share your photos will be as memorable as the photos themselves. Photo Collage Maker software provides you with everything you may need to edit or spice up the chosen images. There are plenty of themed templates, masks, filters, text styles and cliparts to choose from, so you will find inspiration around every corner. Here are a few graduation collage ideas that you can realize with your own hands.
Class-Year Photo Montage
Have you ever thought about making a personalized graduation photo collage as a unique gift for your classmates? If the answer is no, it is time to try it. You must have taken hundreds of pictures that reflect all the important events throughout your school life. Lectures, exams, internships, football matches and fraternity parties – now you can turn these memories into a stylish collage to keep them alive!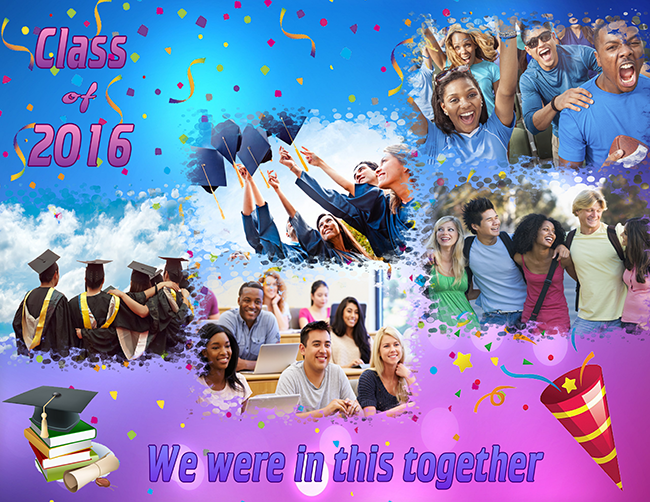 This collage looks so festive thanks to bright colors and a lot of funky cliparts. If you are choosing among cool images to ginger up your design, try to find some themed cliparts that reflect the years spent in university. It can be a graduate cap, a pile of books, a blackboard covered in math formulas or something else that has a special meaning to your classmates and you. Anyway, a graduation collage is guaranteed to be one of the most meaningful gifts that your friends will receive on this remarkable day.
Multi-Generational Collage
There is no doubt that graduation marks the students' achievements as well as major contributions of their respective families. That is why making a multi-generational collage out of graduation-day images sounds as a great idea! Start with scans of prints from pre-digital commencements, and then combine them with digital-camera or smartphone photos of younger generations.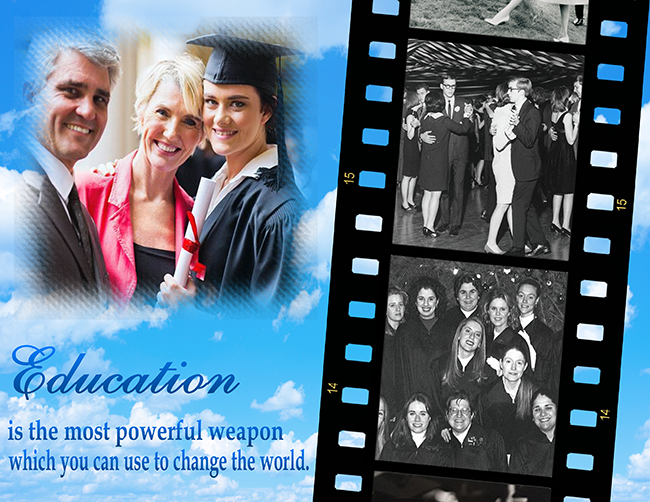 You can make a grid, blended or bordered collage, but pick your type with regard to the overall composition. Here, we've chosen an asymmetrical photo arrangement to show the continuity of generations. The left part of the collage is given to a family picture with a modern graduate, while older images framed by photo film are put on the right – that's one possible way to arrange cap-and-gown portraits of different generations. Another way is using black-and-white color palette to draw the line between old and new photos.
Retrospective Student Collage
As graduation marks a transition to the next phase of one's life, the gift should be equally memorable and meaningful. One more exciting graduation photo collage idea is to make a compilation out of the pictures taken throughout the years. For example, if you have snapped images of your graduate as they moved among various scholastic levels, build your collage featuring each graduation from kindergarten and elementary to middle and high school and beyond.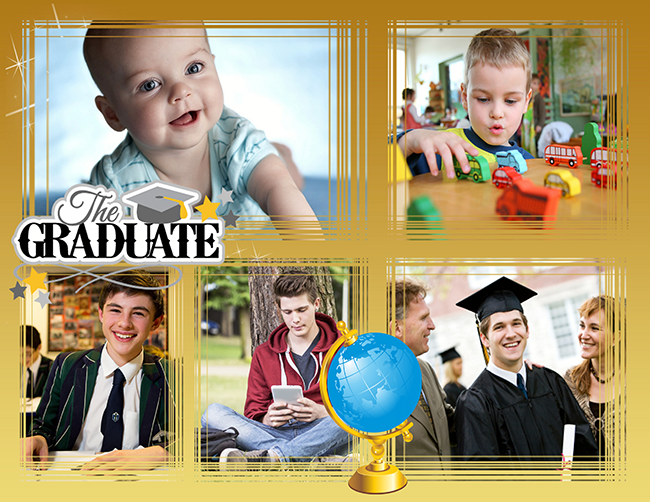 You can also fill in the surrounding image area with other photo milestones to show all the changes a graduate has gone through the years. The number of photos you decide to use in your collage can vary from a few images to dozens. Whether you plan to create a large mosaic design or a small retrospective card, pick the pictures that will make a graduate wonder if they were really so little and cute a long time ago.
Graduation Party Invitation Card
If you are planning a party to honor your child who has successfully graduated from university, you cannot do without a gorgeous invitation card to let all the relatives and friends know how proud you are. In order to celebrate the monumental ceremony create a graduation photo collage displaying the hero of the day and the pleasures of the table they will be treated to.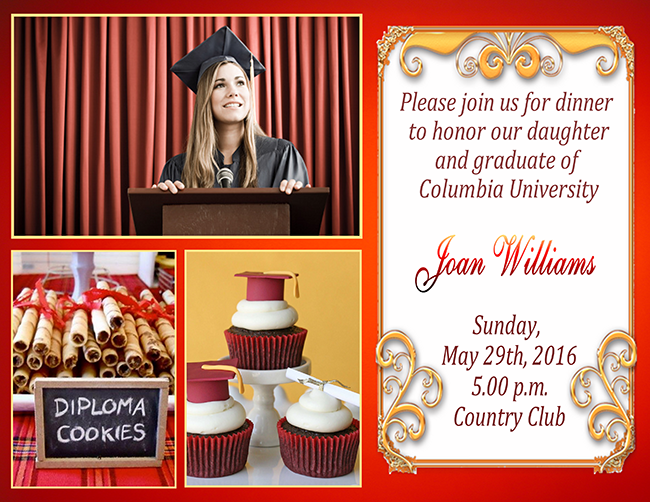 Text captions play a key role in any invitation card, so make them rather bright and catchy. Don't be afraid to experiment with different text styles using bold, italic and standard fonts, but do it in a moderate way. A frame around your text will make the message even more visible and the overall card will look very elegant. Share your graduation collage with yesterday's students before the party or on the actual graduation day.
Graduation Gift to Hold Dear for Years to Come
Whether you want to drop a photo into a congratulatory greeting, put together a personalized graduation photo album, or create a keepsake photo collage as a graduation gift, with Photo Collage Maker software the results will professional and one-of-a-kind! Share your customized collage with happy graduates via e-mail, post it on Facebook for the whole world to enjoy or print and frame it for a wonderful present.
Have a question or a comment? Post it here!