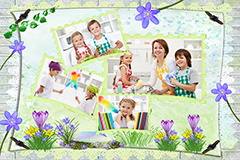 The best way to show your love to your family is to collect the most moving memories, tie them up in a bundle and give it as a present. No matter what the occasion is (and there is no need for a special occasion to demonstrate your love actually), it's a great idea to open the Pictures folder on your computer and make a beautiful composition from your family photos. Combine several photos on a page and add some special design to create a family photo collage - you can then print and give it to grandparents, send it by e-mail to faraway relatives, publish on Facebook or hang on the wall!
In order to create an heirloom like that, it's best to use special photo collage software that is both intuitive and creative. Applications like Photo Collage Maker allow you to choose among a variety of pre-designed templates, and to edit your photographs without using any external applications.
Not sure where to start? Check out these family photo collage ideas!
Happy Together
Last year seemed to be abundant in funny shots and grimacing children? Even doing domestic chores together turned into a great show that was worth capturing and now needs displaying! So here's the first idea for your family photo collage: collect the best shots and send an unexpected present to all your relatives – they'll be glad to hear that you're happy together. The collage technique is also helpful when you do not have a group portrait of your family standing together. In this case, just include an individual photo of each family member in your collage, arranging the photos the way you like.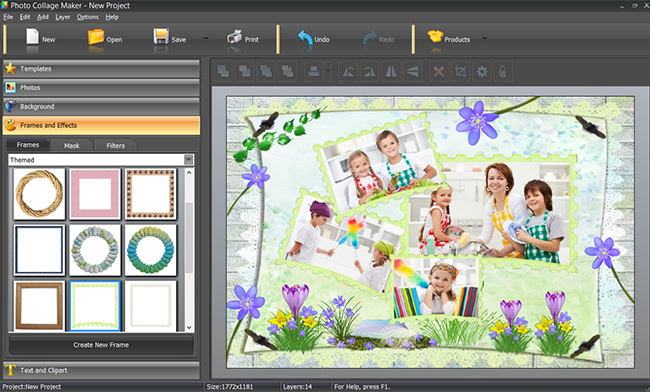 Event Reminder
It's a great idea to create a collage to demonstrate your family happiness due to your wedding anniversary or because of Christmas holidays approaching. Events like these always raise your spirits, especially when something reminds you about them. Photo collage software offers a great variety of themed collage templates devoted to different events. You can make your collage more eye-catching by adding different kinds of captions. Do you have family jokes or catchphrases? Let them participate in the fun!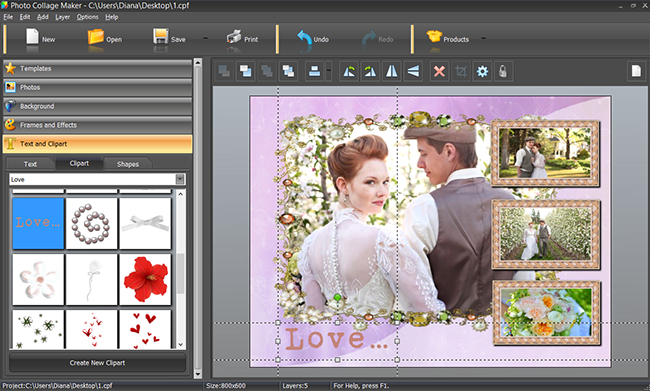 Family Vacation Collage
Just spent vacation together? Gigabytes of photo material are a very rich resource for self-expression and particularly for collage creation. Remember that you are creating not only a combination of photos on one page but also a parcel with your emotions and impressions. Therefore, you need to package it accordingly so that it produces the feelings you want to share. Choose the best shots and put them in the foreground of a thematically embellished design: forest camping holidays, sands and beaches, Europe sights or countryside. You can choose from pre-designed collage templates or create your own layout using clipart, masks and frames and choosing your own image for the background.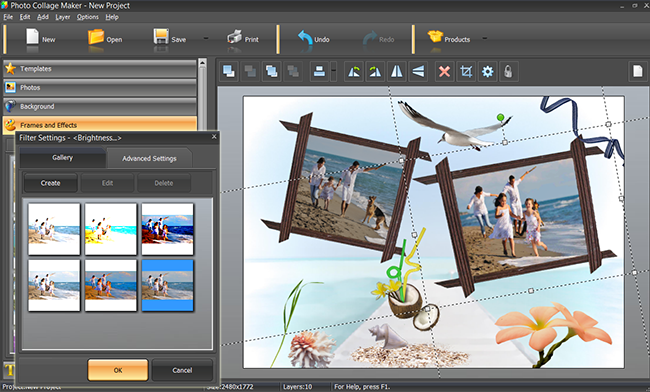 Alone in the Limelight
Many family photo collage ideas are centered on one protagonist – the one whose birthday is approaching, who just graduated from university, or a newborn baby entering the family world. This type of collage needs the portrait photos of this person and photos picturing him or her with other people. If you include only individual portraits of the central character, the collage may turn out a bit boring. Arrange the photos in such a way that the collage resembles a chronological photo story – for example, you can show the viewer how your baby was growing up week by week.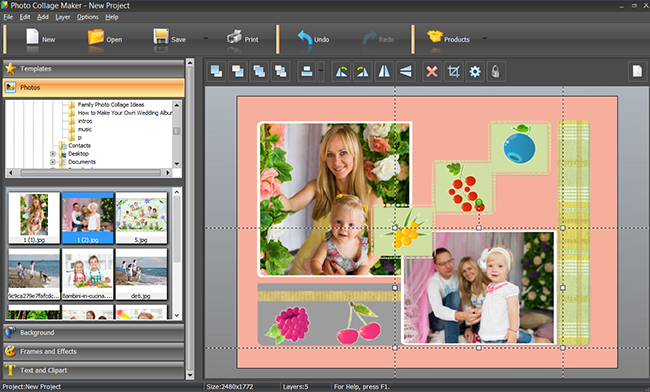 Grandparents' Photos Should Be Treasured!
The most touching photos are usually the ones where grandparents and grandkids are pictured together. Another option is to include the photos of all generations in your collage - this way you will show how expanded your family is. Choose the main photo that will be the pivot of your collage – it will have the strongest impact on the viewer. Allow it to have some empty space around, so that it produces a more dramatic and pathetic effect. Pair the large picture with smaller supporting shots.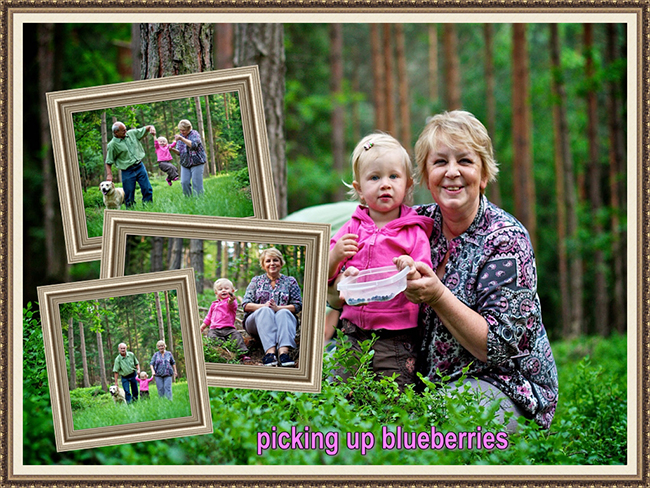 Cherishing memories with a family photo collage is a great idea; why not make it a family tradition then? Remember the days when the walls were decorated with the portraits of ancestors. In our digital era, everything has become easier: no need for a professional painter – create a family portrait yourself! Your photos (as well as some relatives) are awaiting your creativity boost. To practice how to make a collage of pictures, just start the software and set your imagination free. Create a beautiful present for your family!
Have a question or a comment? Post it here!