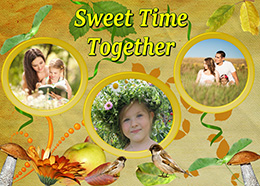 Scrapbooking is a wonderful way to treasure and showcase any important moments that took place in our lives. Creating a scrapbook in the traditional way may be quite romantic of course, but also time-consuming and sometimes even dramatic. Instead of spending days struggling with glued fingers and constantly tearing colored paper, you can create a stylish scrapbook on your computer in just a few hours. Another big plus is that digital scrapbooking allows you to experiment with the design without the fear of making a mistake and ruining the page. Also, when you do not like the result of your action, you may just click on the "Undo" button and give it another try. If you are ready to learn how to make a digital scrapbook, this article will guide you through all the steps!
Modern digital scrapbooking software like AMS Photo Collage Maker allows you to work with each page individually to create a truly unique and personal design for your story. Every page of your scrapbook will represent a photo collage embellished with clipart and captions. You can use ready-made templates and customize them as you need, or you may create your own style from scratch.
Step 1 – Choose a Suitable Template
So then how to make a digital scrapbook? First, decide upon its topic and select the photos you are going to use. Then start the software and check out the ready-made Templates it comes packed with: children styles, wedding, travel, vintage designs, etc. In case your scrapbook is not devoted to any particular occasion, look through the "Seasons" group and try some of the flower designs – they look awesome with the majority of photos. If you prefer to create a scrapbook page from scratch, go to Page Layouts and select one of them - you can add any embellishments later according to your own taste.
Step 2 – Adjust the Page Look
Now you can drag and drop the photos into the frames. Rotate, resize and crop the photos as you wish. Move them like cards in a pile using the Bring to Front and Send to Back buttons on the toolbar above the canvas. Go to the Background tab if you want to replace the background with a different image. Finally, use Clipart to embellish your design – add some flowers, toy balloons, cute animals, etc. Remember that a digital scrapbook is still a book, so make sure you leave some space for the text!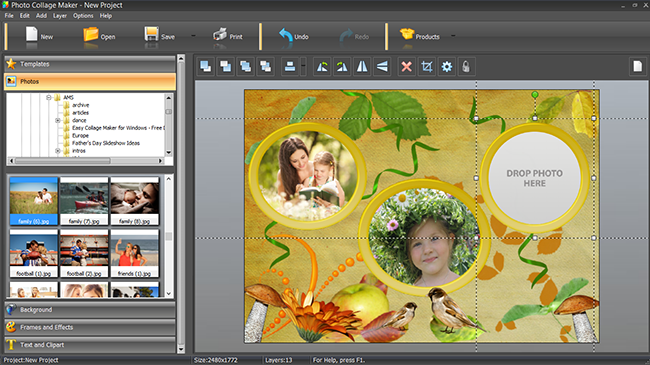 Step 3 – Refine the Photos Properly
How to make a digital scrapbook look refined and eloquent? The answer is – embellish the photos properly. Frames make them stand out against the background and add style. For example, classic frames create a vintage look, and the floral ones add some romantic air. Masks are used to blur the edges of the photos or to merge several photos into one image. Another great aid are Filters that you can use to enhance the quality of your photos – make them more bright and colorful or, vice versa, create an "old photo" look.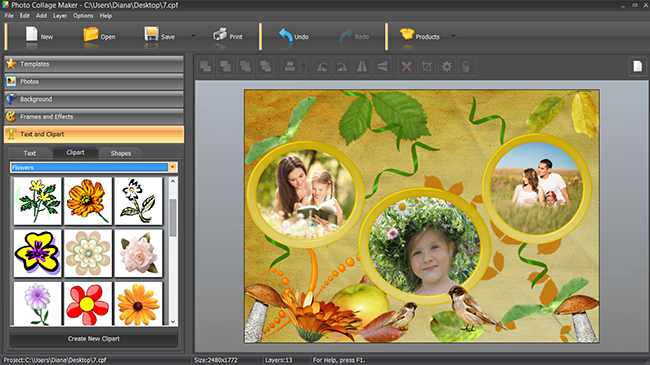 Step 4 – Add Stylish Captions
One of the most significant elements on almost any scrapbook page is text. Photo Collage Maker offers rich text editing options, so you can select the best-looking font and color for your caption. Open the Settings window and adjust the Add Outline and Drop Shadow options to make your message sharper and more readable. Save the style you created to use it with other captions in your scrapbook.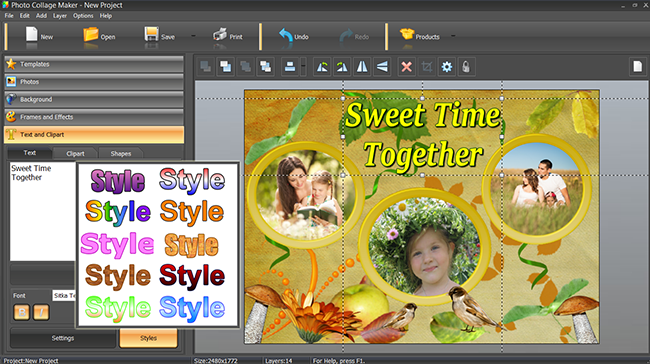 Step 5 – Print or Publish the Page
When the first page of your scrapbook is ready, save the design as template. Should you want to create a similar page but with some slight changes, you may modify the template you just made. Saving the project is helpful when you get distracted – you can safely leave the page unfinished, shut down your PC and return to the task when you have time. Save the page as JPEG to send it by e-mail, to publish it online or to print it in the print shop. Or simply click on Print, select the paper size and start printing! If you are making a scrapbook with your friends' or family photos, print some extra copies for them to enjoy your artwork.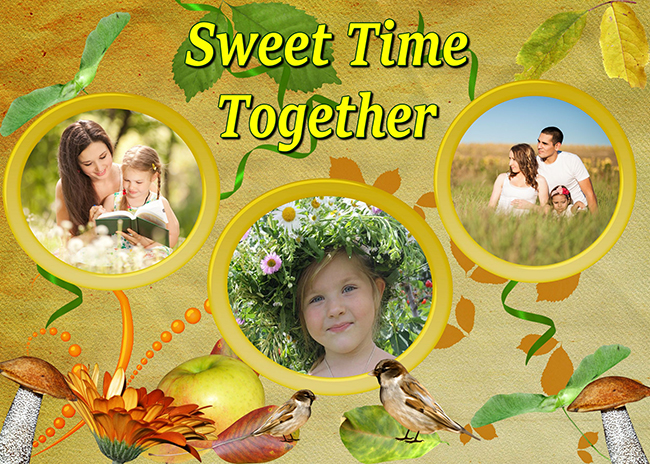 Digital scrapbooking is becoming more and more popular. Just imagine – you can make as many page designs as you like and complete your scrapbook without broken scissors and torn photos! The hobby of scrapbooking is a hot trend among young and old today. Perhaps you need an idea for your very first project? Here's one you could start with: make a scrapbook for your boyfriend to give him a moving gift for his birthday or your anniversary.
Now that you know the tricks of digital scrapbooking, get your photos ready and create your own art piece!
Have a question or a comment? Post it here!