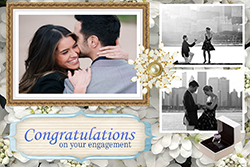 Love stories are as old as the hills – he asked for her hand and she gave him her heart. But before exchanging vows and living happily ever after there is excitement brought by engagement. So why not send the newly engaged couple your warm wishes with a hand-made greeting card they can cherish? There is hardly a more exalting feeling than the one you experience when you open your mailbox and find a sweet message. Send this excitement to your engaged friends in a tailor-made greeting card! Sounds like a plan, but how to make a greeting card at home?
Using an easy collage maker, you can create a gift that can easily beat any store-bought cards with empty meaning. Photo Collage Maker is great card design software that offers vast opportunities to customize greetings for all possible events you are unlikely to find pre-made cards for. As this program is packed with editing tools and design features, you will have no problems creating personal cards which express your real sentiments, but you may need helpful advice to guide you through the process.
Step 1 – Select the Most Romantic Templates & Layouts
How to make a greeting card at home is a common question for those who do not know where to start. Firstly, you should consider the photo or photos you are going to use in your greeting card. Knowing this in advance will help you to select a proper layout or pre-crafted template. Basically, it depends on the deadline. If you are rushing to make a present for an upcoming event, designer templates will save you a lot of troubles. In case you are ready to invest some time and efforts into the creative work, you are welcome to experiment with various layouts.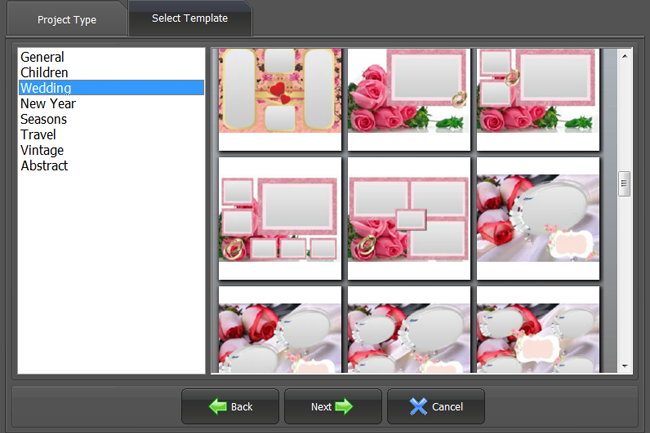 Step 2 – Put Your Heart into the Template Design
Once you have chosen the best layout or template, you can unleash your full creativity. Think about the placement of your images on the future greeting card to display them in a favorable light. Do not be afraid to rotate them or to drag them to the opposite sides in order to leave more space in the card center. If necessary, eliminate unnecessary decorative elements and take a closer look at the Frames and Effects tab. There you will find tons of stylish frames, filters and masks to add personal touches to your engagement card.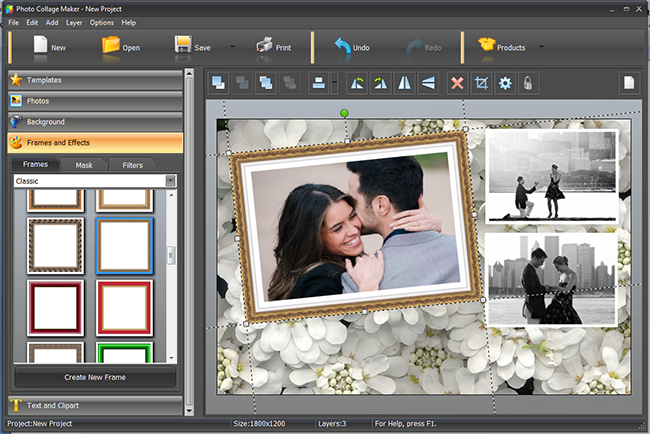 Step 3 – Mix & Match Text Captions and Cliparts
Thinking of how to make a greeting card at home you cannot but wonder about a warm and sincere message that will fit the occasion. It can be song lyrics or romantic verses, personal jokes or touching sentiments. Photo Collage Maker provides its users with editing tools and exciting options for customizing greeting card captions.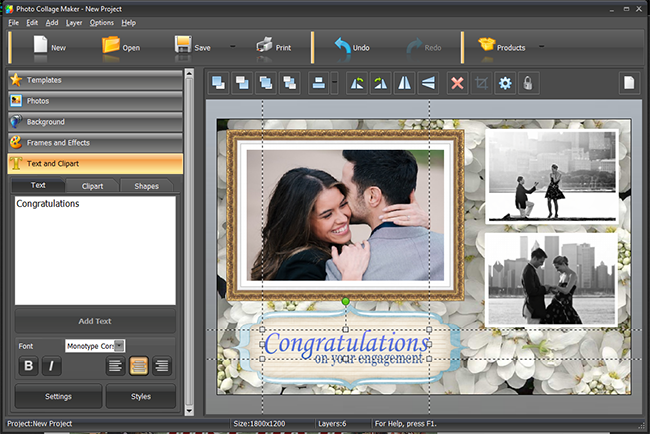 It is so much fun to experiment with different text styles, to change the font or color of the words and then to apply some unusual effects. Just make sure that your fonts complement the style of your greeting card as bad typography can ruin even a perfectly designed layout. The same goes for bright cliparts which are used to zing up the design but can become distracting elements if one gets carried away by enthusiasm.
Step 4 – Print Your Custom Greeting Card
At the final step all you have to do is to save your project and hit the Print icon. Prior to printing, remember to set the right paper size so that your personalized greeting card will have the same proportions as retail ones. The program will do the rest of the job and your engaged friends will receive a one-of-a-kind card crafted just for them.
With Photo Collage Maker, you will become a pro at designing personalized greeting cards in less time than it takes to look through commercial ones lined up on supermarket shelves. Whatever the occasion is, this greeting card software allows you to create the perfect gesture to express your true feelings and let someone know how much you care.
After you have learnt how to make a greeting card at home you can make a greeting card for your parents who commemorate their wedding anniversary, your best friend celebrating a birthday and all your relatives to cheer them up on Christmas Day. Make a personalized greeting card with a unique design to send a meaningful and moving message to your loved ones!
Have a question or a comment? Post it here!