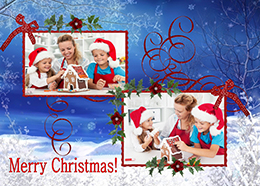 It's always a pleasure to receive a Christmas card, and it's a double pleasure when someone created it especially for you. The art of making holiday cards is easy to learn, and the personalized cards will be gratefully appreciated. The Christmas card may become even more precious if you encase a photo of your family or your friends in it. You can make the cards in bulk because it only takes a few minutes to complete the design, so all the special people on your Christmas list will get a creative seasonal greeting from you. It's up to you whether to print the cards or send the digital copies by e-mail or via Facebook.
So then, how to make Christmas cards at home? To cope with the task you'll need picture collage software, because technically your cards will represent collages of pictures. This kind of software will allow you to use pre-developed Christmas card designs and to decorate your photos with the help of rich editing options.
Christmas Palette
Christmas cards traditionally use Christmas-related photos, but you can disregard this stereotype and use the shots you took in winter or the ones that picture the recipient of the future card. You can use one, two, three or more photos on one canvas. To make your photos look nice against the Christmas background, try to limit your palette colors. Opt for green, red and black & white. Blue, red and white are a great match too.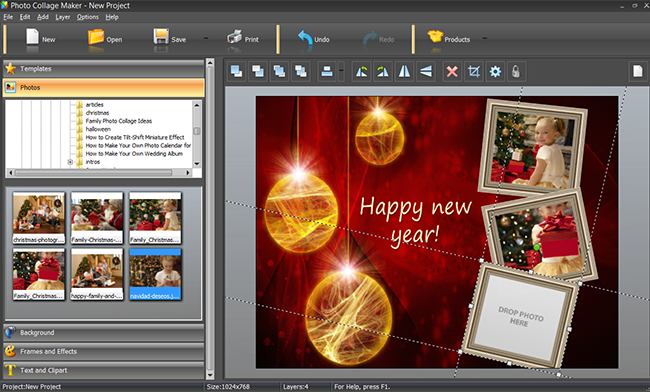 Creative Arrangement
The most significant thing when creating a Christmas card is to convey the Christmas mood. How to make Christmas cards at home? Just try to forget store-bought holiday greetings! Having started the collage software, choose the design among the Seasons and New Year templates. Now you can customize the layout as you like. Drag and drop your pictures into the frames. Use the crop button in the toolbar to crop pics. Then move and resize the photos and other design elements to achieve the best-looking arrangement. Try something unusual, for example, arrange the photos in the shape of a Christmas tree!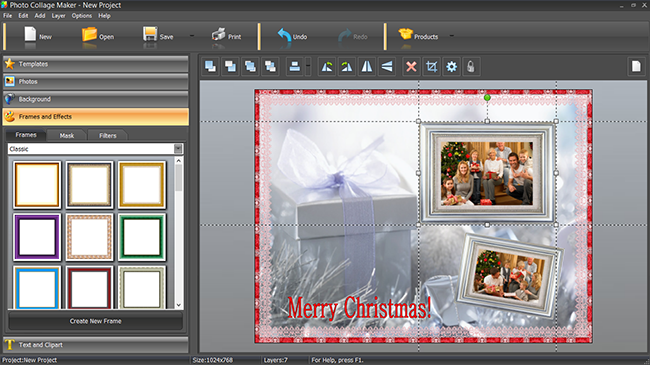 Personal Design
When you make Christmas cards at home, you are free to design something exclusive and personal. You can add borders and frames to your photos to make them stand out against the background. On the contrary, if you are using masks, your shots will merge with the background in a curious manner. Apply filters to all or to some of the photos to enhance them. If the shot is too dark, brightness & contrast filter will help you fix it. Desaturate the image to make it black & white – it will look more stylish and classical.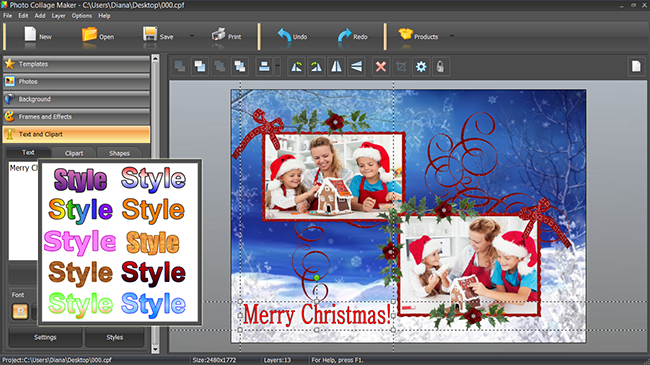 Merry Messages
In the Text tab, write your greetings or anything you would like to say to the recipient of the card. "Merry Christmas!", "Happy New Year!", "I love you", or even a Christmas poem – add as much text as you wish. In the Settings tab, select the text color that will complement the main colors on the canvas. If your addressees are children, you can choose a picture of a cute animal or the Christmas tree in the Clipart tab. Add it to the card, and the kids will just adore your artwork!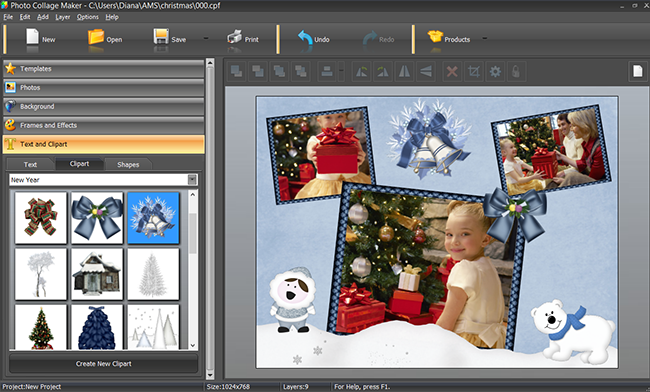 One-Click Printing
Now you only need to print your Christmas cards. In the Print window, select the resolution of 300 dpi. The standard dimension for ordinary postcards is 4 inches high x 6 inches wide. However, if you are not going to send it by snail mail, choose any other dimension you like. To send it by e-mail or to share it on social networks, save the design as JPEG. Do not forget to save your design as Template if you plan to use it for making more similar cards.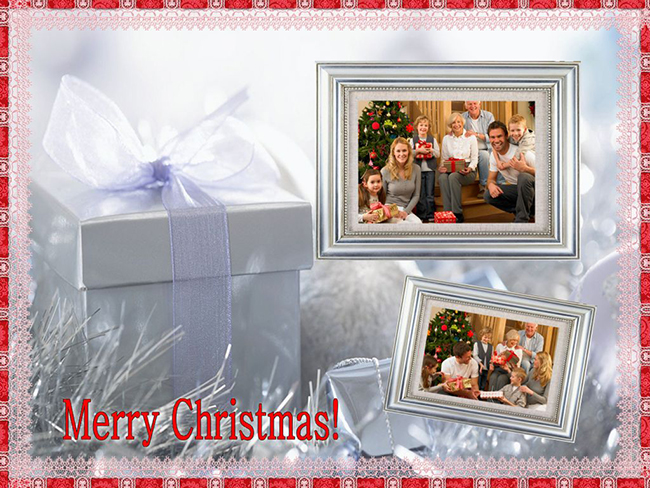 One of the biggest joys of the holiday period is to open your mailbox and take out a handful of Christmas cards from family and friends. When someone wants to make Christmas cards at home that means they really care about their friends and family. A greeting card featuring a favorite photo will be cherished for a lifetime. And if you're thinking of new ways to occupy yourself during the holiday evenings, you might like to learn how to make your own postcards - with your travel photos for example. Winter holidays are approaching, and it is better to start preparing your Christmas cards right now!
Have a question or a comment? Post it here!