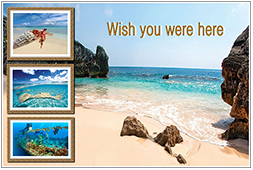 Travelling is costly these days. Do you remember how many postcards you bought during your last trip? And were you totally satisfied with their cost and design? Travellers often have to purchase rather corny cards found at the airport or in a pricy gift shop, with not much choice. However, have you ever mused about unique and personal postcards at a low price? No doubt you've taken some great photos during your trip, and the solution of the problem is very simple - just turn them into postcards!
In order to make your own postcards, you will need convenient picture collage software that will allow you to edit your photos, apply stylish effects and add text captions. Any of your photos can become a wonderful postcard; you only need to embellish it!
Put Several Photos on One Canvas
Simple travel postcards tend to have only one photo, but with picture collage software you can put several photos on your postcard! When starting the software, choose the most suitable collage design – for example, Seasons, Travel and Vintage styles will certainly emphasize the beauty of the pictured places. If you are not sure how to make your own postcards look well-designed, just arrange the photos in a grid. Opt for those photos that are not too "dark" and have a complementing scale of colors. If you use a deep blue photo among pink and beige ones, it will look like a black eye and the visual effect will not be very pleasing.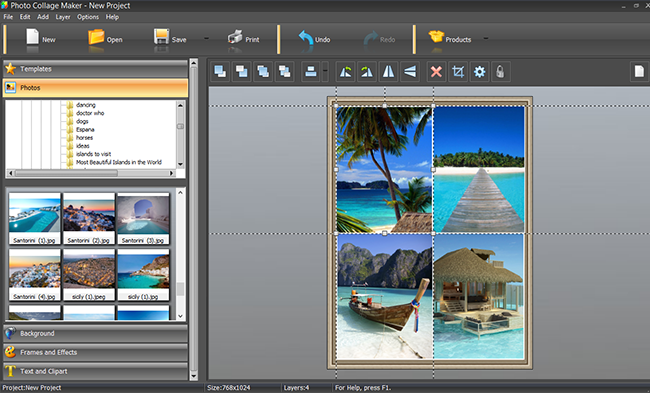 Narrow Your Photos Down by Quality
All travel photos are usually splendid, but to make your own postcards you need to follow one major rule: use only good quality photos and skip the ones that are blurred or out of focus. Note that Photo Collage Maker software has a range of Photo Filters which you can use to improve the quality of a photo or to make it more stylish. Adjust brightness and bontrast and play with hue to make your tropical shots even more attractive. Make a photo black and white to emphasize the linear harmony of the pictured building. Give it an old photo look with Sepia to convey the spirit of the past that still lingers in the city you visited.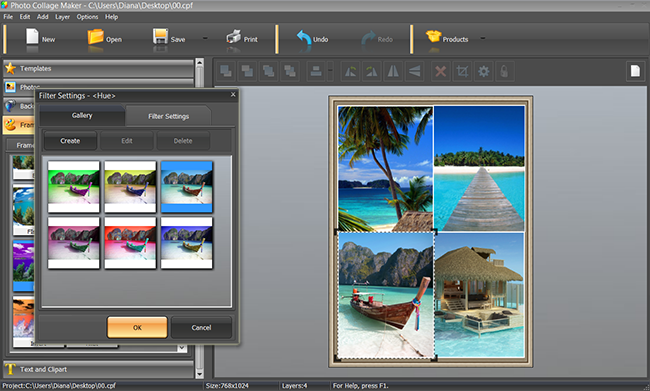 Design Your Postcards Creatively
Next, add Borders and Frames to your postcard. Usually, classic and thematically decorated frames look nice not only with the background photo, but also with the other ones you use on your canvas. Select a color for the border that goes well with the photograph. If you cannot decide, choose the white border – frame with mat is never-fading classic. Try various combinations - you can always Undo or Redo any of your actions by clicking on the corresponding arrows in the toolbar above the canvas.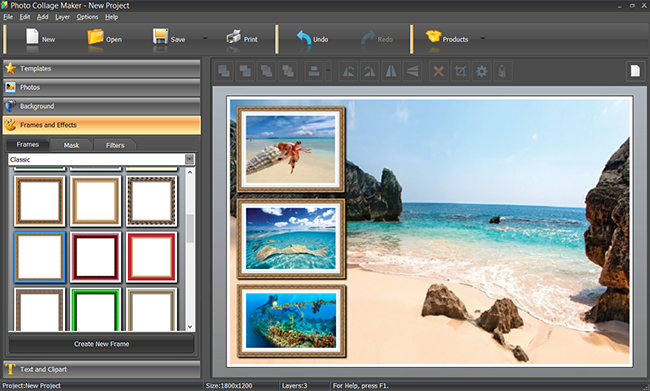 Add Your Personalized Message
Finally, type your message on the postcard. "Bali is magical", "I miss you!" or "Wish you were here!" sound simple but sweet. Photo Collage Maker provides rich text options and many different fonts to choose from, so select one or more fonts that match the style you created. Try to keep your text color theme similar to the border colors. In the Text Settings window, open the Effects tab and check Add Outline or Drop Shadow options to make your caption stand out against the background.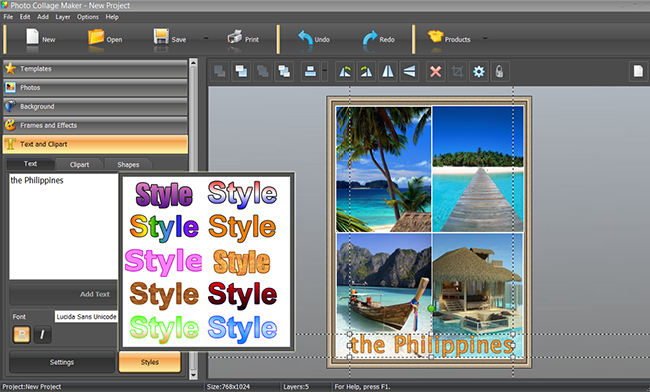 Print Your Postcards and Send Them by Snail Mail!
Remember that you should print your travel memories in high resolution of 300 dpi, and that the standard dimension for postcards is 4 inches high x 6 inches long. Take into account the quantity of the addressees – all your best friends and family members deserve a copy. If you want to send the card by e-mail or share it in social networks, save the design as JPEG. Or just turn over the freshly printed postcard, slap on a stamp, write your friend's address and drop it in the mail!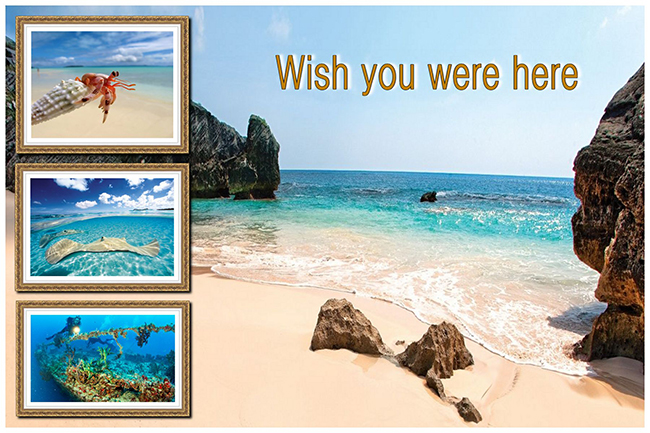 There is nothing like opening your mailbox one morning and finding a small paper souvenir from one of your friends. Personal postcards are economical and easy to make – you can create an endless amount of original and beautiful art pieces without spending a dime. After learning how to make your own postcards, you might also want to make a collage of pictures with your travel photos. Create a stylish photo report of your adventures and share it with your friends and dear ones!
Have a question or a comment? Post it here!