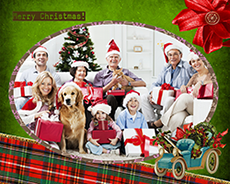 With Christmas fast approaching, you may start wondering how to capture the festive magic and share it with your significant ones. If you are looking for a personal holiday gift to put it under the tree, post on a social network or send by snail mail, a Merry Christmas collage is a superb creation that lets you express your own holiday spirit and reach out to those around you. All you need is an easy-to-use application to bring to life your boldest ideas and try different design styles.
Conveying sweet messages and deep feelings, Photo Collage Maker offers you plenty of amazing features and useful tools to unravel all your potential. This creative collage maker enables you to share Christmas wishes, lovely memories and special moments that make our life worth living. With dozens of pre-designed templates to choose from, you can draw inspiration from the photos taken over the years and prepare great holiday presents for your family members.
Holiday Greeting Card
If Christmas is too close and you still do not have a decent present, there is no reason to hang your head down. With the help of Photo Collage Maker software, you can quickly create a Merry Christmas collage using ready-made styles. Switch to the Collage Templates section, choose a suitable template from the extensive "New Year" collection and then customize your design.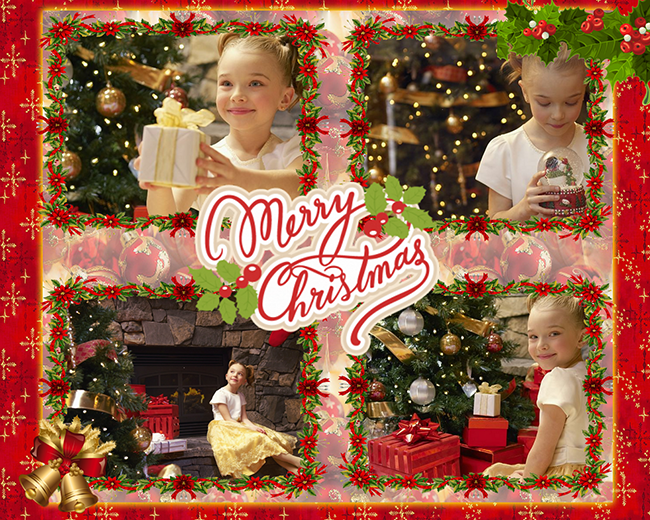 For example, mistletoe frames will look great on virtually any photos and fill them with the holiday spirit. Here, you can see other Christmas-themed embellishments that work the magic. Do not forget about the right text font; choose something bright and simple or elegant and classy. You can also funk up your collage with festive cliparts. Just pick up the suitable ones and paste them to the canvas. Fast and easy, there is no reason not to enjoy this amazing feature!
Classy Christmas Collage
All those who find it hard to choose from a wide variety of templates are free to use basic layouts with blank boxes to insert personal photos. These tools are perfect for making unique designs out of portrait shots and still-life pictures. That way you can present the images of the best-known symbols of the coming holidays, like frosty snowmen, Christmas stockings, gifts wrapped in bright paper and hidden under the tree.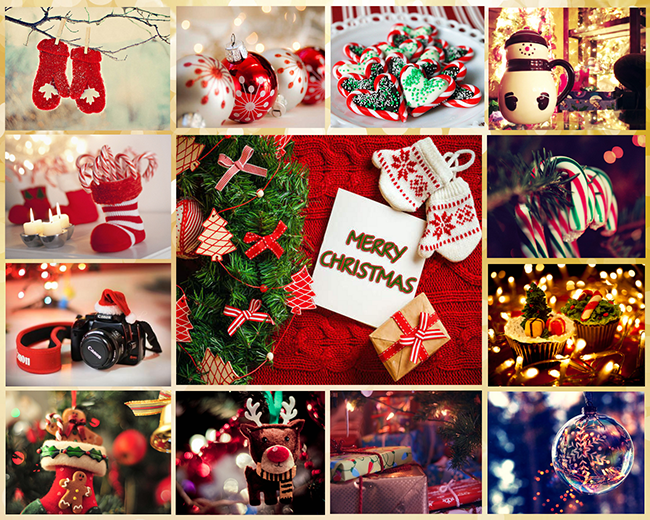 While working on a grid design, pay special attention to the color palette. Green, red and white are generally associated with Christmas, so bring them into your collage! The trick is to add a neutral background image to highlight your pictures rather than steal the viewer's attention. Whether you choose a regular grid or a scattered collage, be sure to get a stylish post card in mere minutes.
Unique Festive Design
Making a truly unforgettable Merry Christmas collage will take more imagination and creativity. In order to start a new design from scratch, hit the Blank Project button and work with the canvas as you like. Move to the Photos tab to add your own pictures and then personalize them by setting the background image and applying special effects, like masks, frames or photo filters.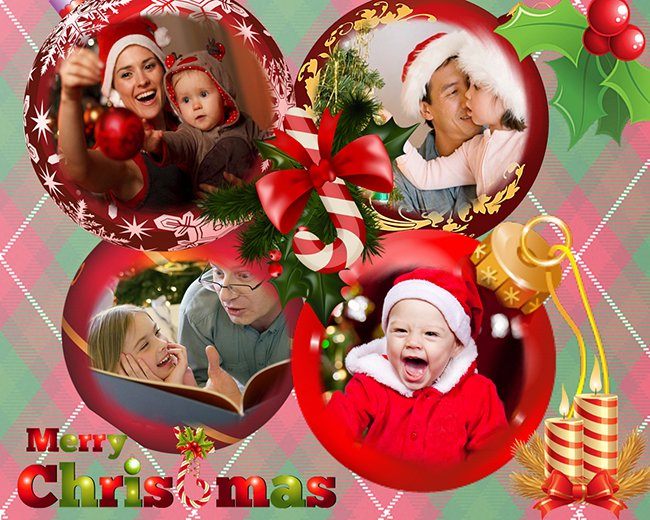 Insert your own holiday cliparts to capture the festive atmosphere. Here, decorated Christmas balls serve as the background for the chosen photos. In order to fit the pictures into the balls, switch to the Frames and Effects tab and apply some round masks. Funk up your design with even more funny embellishments and type in kind greetings. Be sure that the result will amaze your relatives and friends!
While using Photo Collage Maker software, you can tell a grasping story with a photo mix made of the pictures taken throughout the year or during big holidays. Create personalized Merry Christmas collages and holiday cards at home to share with your family by email, Facebook, or print them and send by post. Brighten your dear ones' days by sending them an original collage capturing the Christmas spirit!
Have a question or a comment? Post it here!