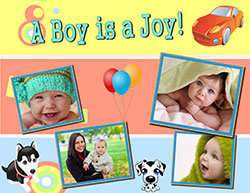 Scrapbooking is perfect for preserving and sharing the precious memories of your baby boy's first adventures. Making a scrapbook is no longer a glue and paper activity - it became digital, thus saving your energy and time. Designing a baby scrapbook requires creativity and inspiration, and you surely have these because the cute face of your kid is bound to be inspiring. Perhaps the most challenging task is to decide which one of the unique and creative scrapbooking ideas for baby boy will serve as the basis for your story.
If you're on the hunt for ideas, digital scrapbook software can come to help. Scrapbooking apps like AMS Collage Maker let you create a lovely scrapbook using ready-made templates with colorful backgrounds, embellished with clipart. Add and edit photos easily, customize the templates as you wish, or create your own page designs and use them for your scrapbook!
Tell Your Boy's Story
One of the most popular scrapbooking ideas for baby boy is to create a photo album with chronologically organized photos. You surely should start with some pictures of pre-baby experiences that your family had. Mom's changing shape and Dad's nervousness can be a perfect introduction to your scrapbook. Then you can add some pages featuring the first days of your baby boy, his photos with parents, family, and pet friends. Do not forget to dedicate a few pages to his growth and achievements. You may showcase everything that your kid did or had for the first time – use the photos of the first roll over, first toys, first steps, first tooth! The album can end with the child's first birthday.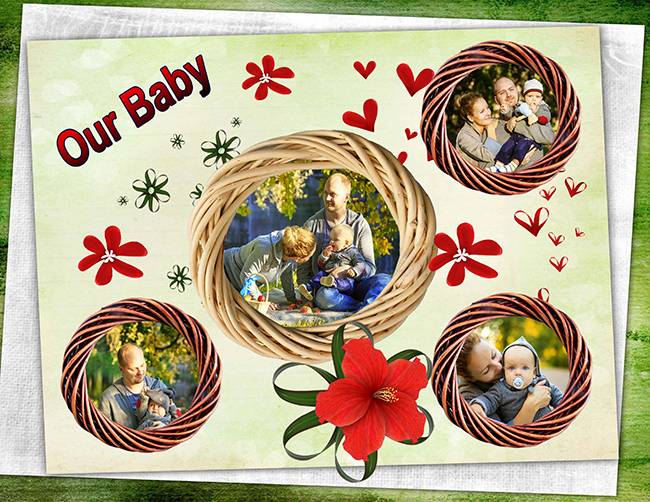 Style It Pretty
It is very important to decide what style your album will have. While most traditional scrapbooking ideas for baby boy imply pastel colored designs, nowadays you come across a lot of bright cartoon and eclectic ones as well. Before you start making the scrapbook, select the template to work with. The style of each template, the colors and the font - everything has been carefully chosen and laid out for you by professional designers. Remember that using too many different styles may turn your story into a chaotic mixture of text and photos. So try to limit your choice to 2-3 templates that you may customize and edit as you like.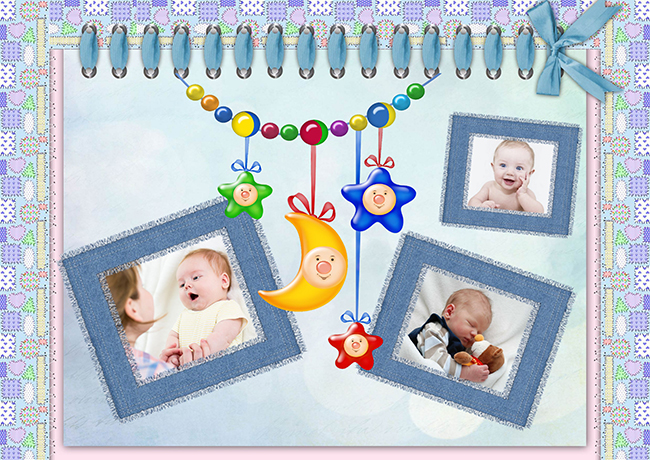 Embellish Your Scrapbook
All the templates are bright and cute - just as the pictures with your kid's smiling face. You can easily change the background of the template and adjust the brightness and contrast of your photos. Try applying a mask to blur the edges of the photo or to change its shape. Experiment with the picture frames to find the best-looking ones. Check out the Clipart tab and embellish your scrapbook with pictures of animals, cars or technological devices – your kid will love it!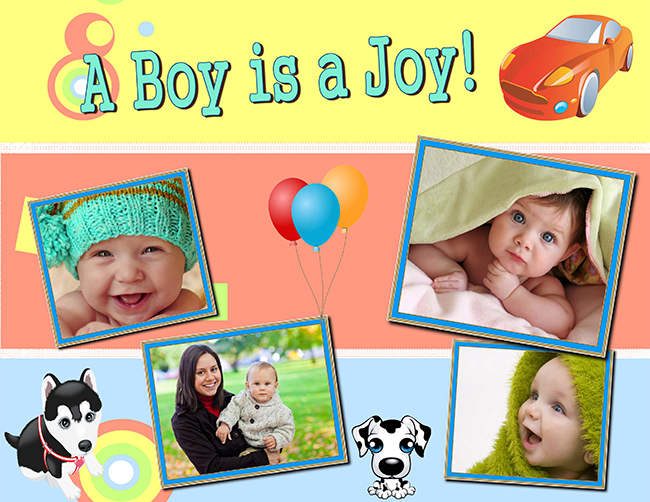 Add the Words of Love
If you want to make each page shine with happiness and joy, you certainly need to include captions in your scrapbook. Rich text editing options allow you to adjust the color, font and effects of the text you type. However, the meaning of your messages should be no less attractive than the design. We've collected the cutest and sweetest caption ideas for you:
You are my son-shine!
Freshly heaven sent
Mom's Sonflower
Tiny treasure
A Boy is a Joy!
Bundle of Joy
Cute as a button
Why walk when you can crawl
Print and Share Your Tale
When your page design is ready for printing, save it As Template to use it with other pages in your scrapbook. The best way to create a charming baby boy scrapbook is to make several similar page designs but with some slight differences like different frames with the same background or different arrangement of photos on the canvas. A great option is to save the pages As Image, so you can send them to a print shop via e-mail. If you have a decent printer at home, print your scrapbook pages right from the program after selecting the necessary print settings. You can also keep a digital version of your scrapbook and send its copies to your relatives and friends.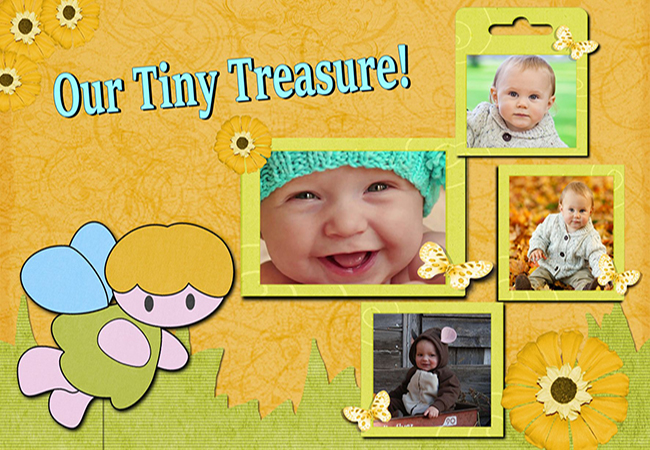 Baby boy scrapbook ideas are very inspiring and very easy to turn into life. Modern software has replaced scissors, and making a scrapbook is now just a matter of drag & drop. It also offers the "undo" option to revert to the previous state – no need to be afraid of ruining the page! Learn how to make a digital scrapbook and create unique and personal gifts for your family and friends. Got inspired? Turn your little man's story into a gorgeous baby boy scrapbook!
Have a question or a comment? Post it here!